About Us
First in Australia
Sporteka was created in 2002 by Fatima Tawfek, a community development professional, youth counsellor, Tennis Australia and FFV qualified coach and a mother who has supported her own children's sporting careers to championship levels.
Our Vision
Sporteka aims to build character through sport and address obesity and self esteem issues facing children today. Child obesity can appear by the age of 5 and bullying and low self esteem may impact on children's development and school performance for years to come.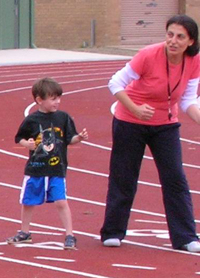 The Sporteka program helps children gain confidence through sport and give you an opportunity to enjoy a fun time out with your kids and peers. It is a "family friendly" sport start program built around the needs of children, busy parents, nursing mothers, grandparents and carers.
Sporteka is based on a very large body of local and international research and first hand practical experience with hundreds of children over years of practice. It is a member driven program that continues to grow as your child grows in confidence and skills.
This slideshow requires JavaScript.