Tennis Hot Shots
3 year old Aastha: sporteka champion in the making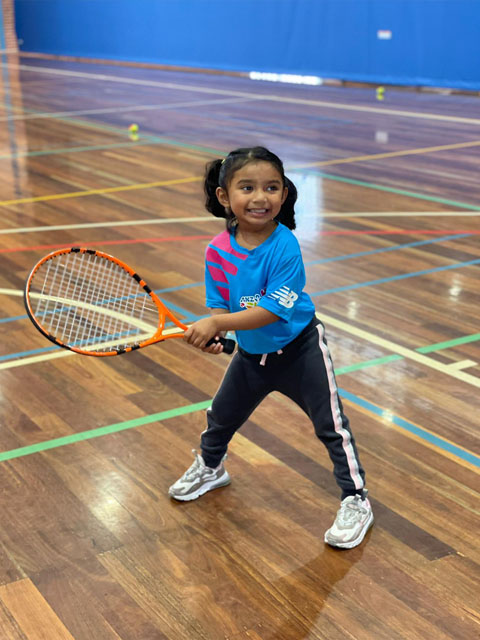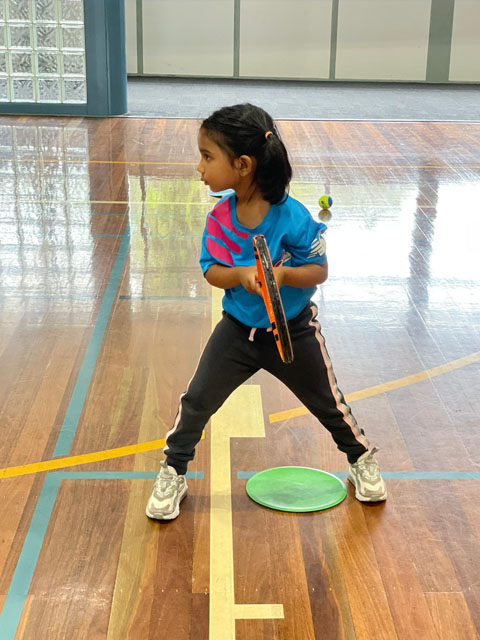 Tennis skills & match practice
About Sporteka Tennis
Sporteka specialises in teaching Tennis to young beginners starting at the age of 3. We are a registered deliverer of Tennis Australia's Tennis Hot Shots program and have been conducting our popular Kids Tennis program for over 20 years. Our qualified coaches work closely with Tennis Australia to ensure your child experiences world class tuition at your local indoor sports centre.
Tennis Hot Shots –- Tennis Australia''s kids' starter program.
Using child-scaled equipment including low compression balls, smaller racquets and nets, children progress through three developmental stages: Red, Orange and Green. This gradual progression improves players' skills and prepares them to play on a full-size court with a yellow ball.
"Hi! Coach Fatima and Jon, thanks for arranging the Class at Koonarra Tennis Court on the last Sunday. Ethan was really enjoy playing tennis. It was a lovely sunny day. We were enjoy too!"
Gary Siu (parent)
Rishi and Tim from Sporteka Tennis Hot Shots program appear in front of Australian Open crowd at the Kids on Court showcase at Melbourne Park.
Sporteka's Tennis Hot Shots program is conducted indoors to maintain all year round practice,no washouts.Outdoor Tennis classes may be available at some venues. At Sporteka, both Tennis coaching and match practice take place in the same 45 minute weekly session. As your child learns the technique of various Tennis shots including serve, forehand, backhand, smash and volley he/she is also learning movement, anticipation, tactics and rallying skills and enjoying playing the game. The enthusiasm and skills of our qualified coaches will inspire your child to achieve personal success every week.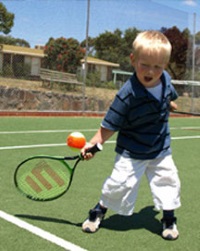 Mason, practicing his forehand strike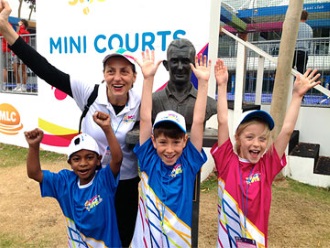 Coach Fatima with Tennis students Rishi, Tim and Kate at the Australian Open, Melbourne Park.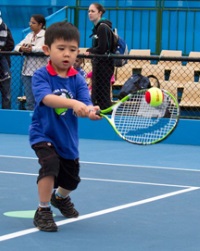 Benjamin from Sporteka at Melbourne Park Kids Fun Day
4 year old Sean is excelling in his private Tennis class with Fatima after only a few weeks of coaching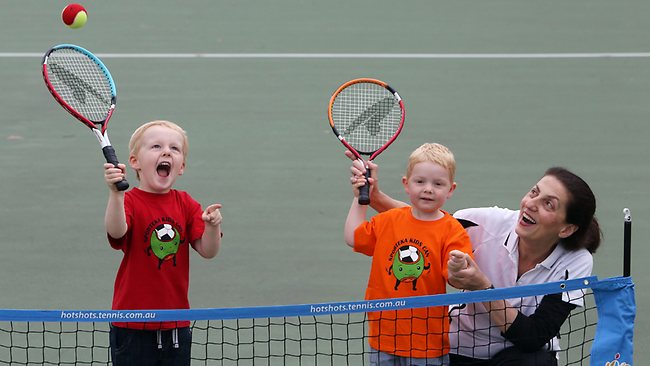 Fatima Tawfek, from Sporteka, shows Samuel and Benjamin some tennis strokes at Templestowe Leisure Centre. Picture: Stuart Milligan. Source: Leader
All the way to the top!
At Sporteka, we don't just teach tennis, we also monitor your child's progress and help him/her access various skills enhancement programs such as Talent ID days, Challenge events, Kids on Court showcases at the Australian Open and Fun Kids Tennis activities at Melbourne Park, where the champions play. We support your child every step of the way either to enjoy tennis recreationally and/or access pathways to the top.
What your child gets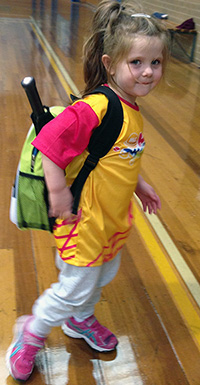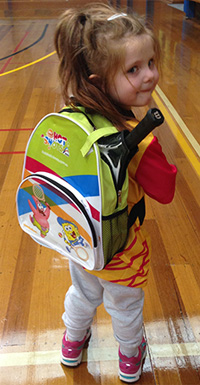 Children enrolled into the Tennis program will:
Register and receive a free Hot Shots T shirt here: https:/hotshots.tennis.com.au/register
Play with scaled equipment that is appropriate to their age, size and ability
Learn in a small class – maximum 4 children per coach
Receive 45 minutes of coaching per week
Develop new skills and enjoy a variety of fun activities in a friendly social environment
Have the opportunity to play in Tennis Australia challenge events, kids on court showcases at the Australian Open and be nominated for talent ID days
To improve their Tennis skills, your child needs to practice and hence own their own racquet. It is vital, however, that kids use a good quality and correct size racquet to avoid stress-related injuries.
To ensure your child gets the correct racquet of the highest quality and durability, we have developed our own line of Sporteka branded 21" racquets.
Sporteka Racquet Features include:
Premium Grade Alu-Alloy
Mid Beam Stabiliser
O-Beam Construction
Premium PU Grip
Premium grade synthetic gut strings
3/4 Cover with Carry Handle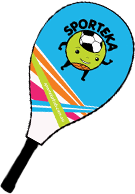 $32 may be added to Enrolment fee when purchasing a Sporteka racquet.